A Letter To Students
So I started to wonder — what sort of pastoral letter of encouragement and hope might I write, like Paul, to these students who are also entering a world in which their voice, wisdom, and heart are so desperately needed?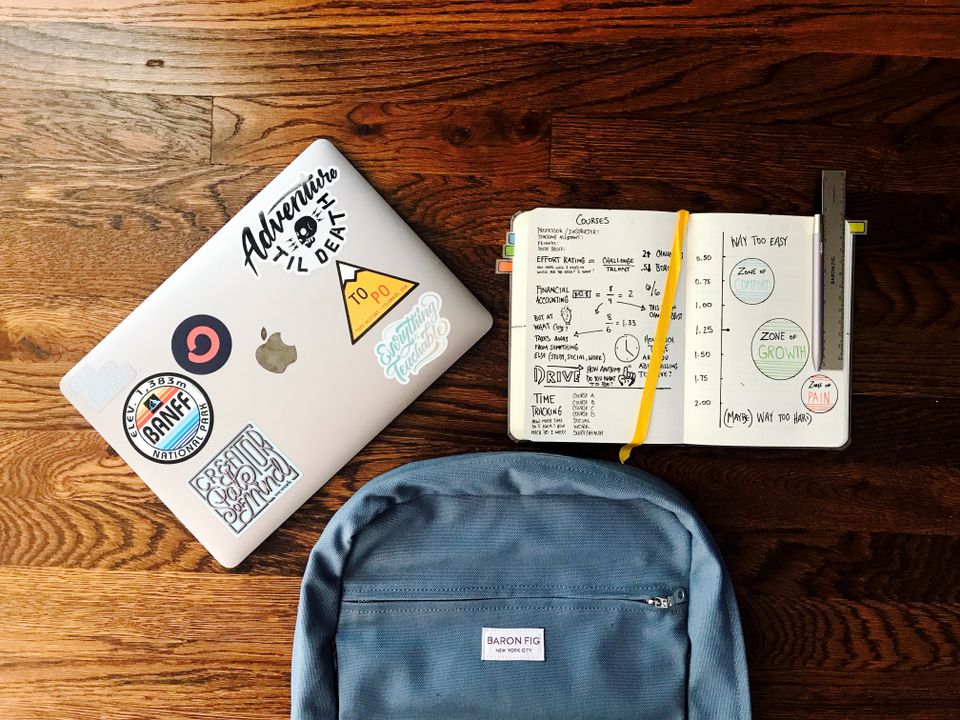 Sermon Delivered at The Local Church
Sunday, August 22, 2021
Scripture: Ephesians 6:10–20
---
How many of you have your first-day-of-school outfit already picked out? Maybe you've already laid it out, or you've put it together in your head. It's a big deal.
You gotta look fresh for that first day. Our clothing tells a story. It says something about our identity. I remember dragging my parents around the mall to American Eagle and Abercrombie & Fitch to go back-to-school shopping for way-too-expensive clothes that I could never really pull off like the most popular kids — all because I wanted to fit in. Because I wanted to project a certain image. Because I wanted these clothes to communicate something about who I am and because I wanted to look my best.
The scripture reading this morning is about that. It's from Paul's letter to the Ephesians in the New Testament — the second half of the Bible that tells the story of Jesus and his followers and the church — all told through story and teaching and letters written to various groups of Christians throughout the ancient world.
And this section comes at the very end of Paul's letter to the church in Ephesus — the group of followers of The Way. This letter is meant to be a letter of encouragement—a pastoral letter of love — designed to lift up the people. If you have a few minutes this afternoon, you should read the whole thing. It's beautiful. It's meant to give them hope. To remind them who they are — God's accomplishment created in Christ Jesus to do good works. To remind them that even in the hardest moments, God is able to do far more than we could ask for or imagine. To tell them to be rooted and grounded in love and to lead a life worthy of the calling to which they have been called.
And while these words in this letter are intended to lift them up, to offer encouragement, and to claim and proclaim resurrection… it's also rooted in reality. It's not Pollyanna. Because this letter also doesn't shy away from the fact that the people to whom Paul is writing are still firmly rooted in a world in which the kingdom of God has broken in, but it is not yet fully here. A world in between the already and the not yet. Between resurrection and full restoration. A world full of war and rumors of war, where creation still groans, where systems of injustice still fester, where cycles of violence still churn. Where refugees still search for home. Where the vulnerable are exploited. Where children still go hungry.
This is why, at the very end of the letter, Paul writes these words: Be strengthened by the Lord. Be strong in the Lord. Put on God's armor because you're going to need it.
And by way of explanation of what it is they're up against, he then offers what has become one of my favorite passages in the Bible. I quote it often — especially when my anger is kindled, and I'm feeling upset with someone or when I think about another person with whom I vehemently disagree.
I need this in Sharpie on my forehead, y'all. Or maybe on yours so I can see it. Paul writes, "We aren't fighting against human enemies, but against rulers, authorities, forces of cosmic darkness, and spiritual powers of evil in the heavens."
We aren't fighting against human enemies. We need to remember that.
In other words, your battle is not against another human being. It's not people. People are the beloved creation of God. Our struggle is not against flesh and blood. But it's against those forces at work in the world that coerces and corrupts and ensnares the people involved. The forces you can't always see, but you can feel — that capture us, that tear us apart from one another, that wedge themselves in between us, that ensnare us. That's what Paul means by the rulers and authorities and forces of cosmic darkness.
And that's why Paul says here, basically, "Suit up. Put on the armor of God. The belt of truth. The breastplate of justice. The shoes of good news. The shield of faith. The helmet of salvation. The sword of the Spirit."
This wardrobe, like a back-to-school outfit, also says something about who you are. About your identity.
And you get the sense here, don't you, that these Ephesians are on the cusp of something new. As if they're about to set out on an adventure. Something they've been preparing for and readying for. As if Paul is releasing them to the world — a world full of challenge and struggle and heartache — of powers and principalities and cosmic forces. One in which they're desperately needed as agents of hope, as the embodiment of love, as drum majors for justice, practitioners of grace and mercy, and disciples of Jesus.
As I sat with this scripture passage this week as part of the lectionary, I realized there were quite a few parallels.
We have seen the struggle on full display this week — authorities and rulers and forces of cosmic darkness in Afghanistan and Haiti and in the lives of so many we know, whose stories we carry, who are sick or hurting or struggling with any number of things.
And yet, many of us also stand at a threshold between the now and the not yet as we send kids back to school. Or maybe some of our kids are going for the first time.
We might feel like Paul — about to send our students into a world in which things are out of our control, and we can only do what we can do — what Paul did: lift them and teach them, encourage them and pray for them, help them prepare for this moment and trust that God's got them and will never ever let them go.
So I started to wonder — what sort of pastoral letter of encouragement and hope might I write, like Paul, to these students who are also entering a world in which their voice, wisdom, and heart are so desperately needed?
I've got one starting Kindergarten on Tuesday this week. What does she need to hear?
So here goes.
---
Beloved of God (kids, that's you, always),
Grace and peace to you in the name of God, who is our greatest teacher and most loving parent,
Soon, your life will be ordered around bells and class schedules and due dates and drop-offs and pick-ups. Your faces will be covered with masks to keep you safe. Your heads will be full of lesson plans and lectures. Your hearts will be full of new friends and secret crushes. And your stomachs will be full of square pizza (do they still do that?) and sloppy joes.
This year, maybe you'll learn to spell or discover parts of speech. Perhaps you'll solve for x or balance chemical equations. You'll play an instrument or make the team or become a budding journalist for the school paper. Maybe you'll spend Friday nights at football games singing fight songs and watching halftime marching band shows, all while also on the lookout for your date to prom.
But first, a few reminders and words of encouragement from a church and a pastor that loves you more than you'll ever know.
First, do your homework, because your homework is important. But also remember that there's more to life than homework.
One night in middle school, I remember when I was up late trying to finish my homework, and my dad came into the room and told me to go to sleep. "Homework is important," he said. "But getting a good night's sleep is more important, so you'll feel rested tomorrow. You can finish in the morning."
So I did. I went to sleep with my science homework unfinished. And that night, he helped me remember what really mattered. He helped me to reorder my priorities and put first things first. It was a reminder to rest, to lean into Sabbath.
And not only that, if adulting has taught your parents anything, it's that you have plenty of time to work a full day and then go home and work some more. Many of us know that reality all too well. You don't need to start now. So while you're in school, do your homework, but also make sure you take time to play. To be a kid. To go outside. Hang out with the neighbors. Ride your bikes. Enjoy the beauty of God's creation. Because this is what you were made for. God didn't make you to do homework. God made you to enjoy and delight in all that God has made. So have fun. Play. Be who God created you to be.
Second, we need you. Your heart. Your wisdom. Your voice. The ways you can see things we can't. How you just "get it" when we have a knack for making everything so complicated. There's a reason Jesus told the grown-ups who wanted to know more about him that unless they became like children, they wouldn't enter the kingdom of heaven. It's because of your wonder and your curiosity. Your innocence and your ability to live in mystery. It's your good beautiful questions and how you relentlessly ask, "Why?" It's all such gift. And we have a lot to learn from you. Thanks for teaching us. We need you, and others do, too.
Especially when there's someone in your class who gets picked on or is treated differently because something about them is different from many other kids. Or when there's a new student who doesn't know anyone. Or when you see something that's unfair, or there's someone who's sitting alone.
Be the friend they need. Invite them to your table. Play with them at recess. Pick them first for the kickball team. Get to know them just because. And if you see something unfair or unjust, say something. Use your voice. Be that friend just like Jesus has always been a friend to you and always will be. It may not be easy all the time. Sometimes it's hard to speak up or put yourself out there because of peer pressure and wondering what others might think.
Do it anyway. Because — and I'm not exaggerating here — it can change the world. We need you.
Beloved of God (remember, that's you), I saved the most important for last. And it's a word of encouragement and promise that I'm still trying to make stick in my own mind and heart: God loves you no matter what. And your value — your worth — is not contingent on what grades you get or who your friends are or whether you go viral on TikTok or what you do after high school or who you're dating.
I've been reflecting on the moments that shaped me while in school. The spelling bee I won in second grade. The unrequited love on the playground in third. The awkwardness of middle school and the time I hid my report card from my parents in shame. I remember leading the marching band in high school and getting turned down for the Homecoming dance. I remember a humiliating loss in my senior year's class president election and then being selected as a graduation speaker.
The journey ahead will be full of highs and lows. There will be achievements and heartbreak. Some classes will come easy, and others will be more challenging. And at every turn, there will be people and situations and institutions trying to tell you who you are and what you're worth.
But your identity is already given — beloved child of God, created with sacred worth — and your value is already known: priceless.
And nothing can change that. No bad grade. No broken heart. No disappointment. You are beloved and sacred and worthy. That's what gives you your value. Because you belong to God, and we affirm it.
In every high and every low — every mountain top moment and every valley and everywhere in between — the love of God is there. It's constant. And there's nothing you can do to make God love you more, and there's nothing you can do to make God love you less.
Listen again: There's nothing you can do to make God love you more, and there's nothing you can do to make God love you less.
Beloved of God (that's you), you are ready. And we are praying with you and for you. This world needs you, so go pick out your outfit and love where you are.
In the name of God, the one who is creating, redeeming, and sustaining…
Amen.