✨ Imagine a ceremony as memorable as the reception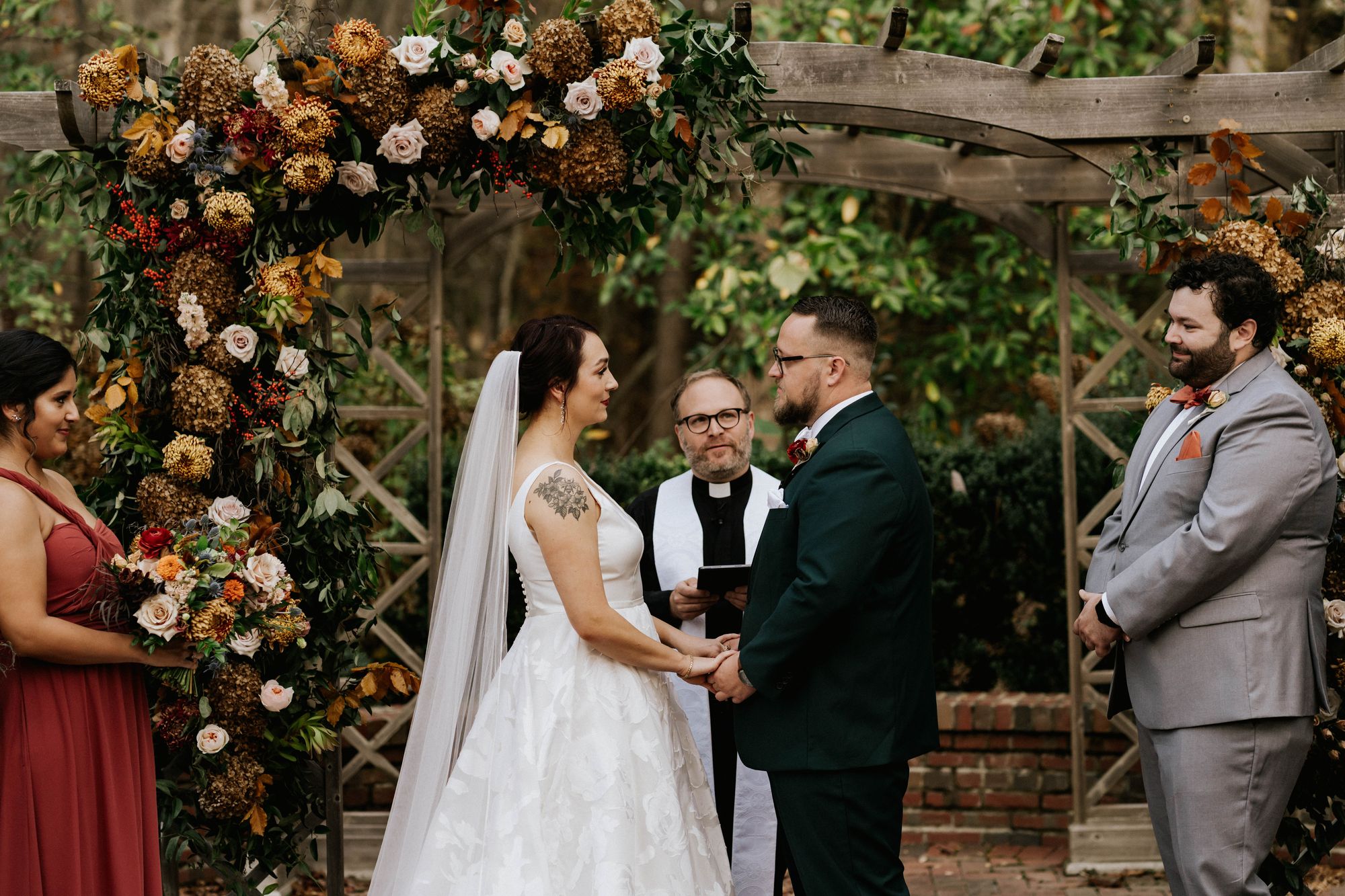 The ceremony sets the tone. It should be personal, beautiful, joyful, and yours — and that's my top priority.
Whether you're looking for a small, intimate ceremony or a grand celebration full to the brim with family and friends, I work hard to ensure your ceremony is the one you've always dreamed it would be. I take the time to get to know you as a couple, hear your story, and craft the perfect wedding ceremony to leave a lasting impression.
I've officiated over 50 weddings in North Carolina, Virginia, Tennesee, and Florida — and would love to help make your ceremony beautiful, authentic, and memorable. My vibe is classic yet comfortable and will feel just right for you and your guests.
Let me help you create the perfect wedding ceremony to reflect God's love in and through you — a love we celebrate in your love on your wedding day. Hit the button below 👇 to get started, and I'll be back in touch soon.
---
Testimonials
Brent is absolutely great! He took the time to sit down with us several times before the wedding, not only for wedding planning but with the main focus on marriage prep. He helped ensure we were going into our lifelong commitment with the strongest base we could have. Brent is caring and wants only the best for everyone.

- Madi and Oscar • Boston, Massachusetts • married August 15, 2020
Brent is extremely personable and made us feel comfortable from the start, even when discussing serious topics. We never once felt any type of judgment from him; in fact, he found ways to relate to us with his own personal life stories. We also believe that our ceremony was absolutely perfect, and he found a way to perfectly represent us as our officiant!

- Bonnie and David • Raleigh, NC • married April 2, 2022
Brent takes his time to get to know you as a couple, and during the premarital counseling sessions, he forms an important basis of communication between you and your partner before you take this big step in getting married! At the same time, this basis also allows him to create the most thoughtful and personal wedding ceremony. Brent truly wants to work with you as a couple to create the perfect wedding, and we were extremely happy with the result. Our ceremony was perfect, and we had many guests come to us and say it was the most beautiful ceremony they had seen.

- Mackenzie and Jan • Frankfurt, Germany • married May 29, 2022
Brent made time to meet with us. The ceremony was tailored around what mattered to us, and he made it special with his insight and knowledge... He has a great spirit and presence.

- Nicole and Andy • Apex, NC • married July 29, 2022
Brent was very helpful and knowledgeable during the entire planning process. The ceremony was wonderful. Brent gave a lovely homily that beautifully wove in aspects of the readings we chose. He led the ceremony with warmth and familiarity, which was exactly the vibe we wanted for our wedding.

- Molly and Riley • Johnson City, TN • married October 1, 2022
Brent did an incredible job of getting to know us and creating a ceremony that perfectly blended tradition with inclusivity to ensure that our guests and families could enjoy the event. Brent is an excellent speaker who intentionally crafted a ceremony that was perfect for my partner and me. Can't recommend highly enough.

- Sarah and Alex • Durham, NC • married November 12, 2022