The Thursday Three • January 6, 2022
I've spent the years following that night in Charlottesville working to become a student of Archbishop Tutu, and I was heartbroken to learn of his "transition" on December 26. So for this week's Thursday Three, I'm sharing three of his teachings that have shaped my life.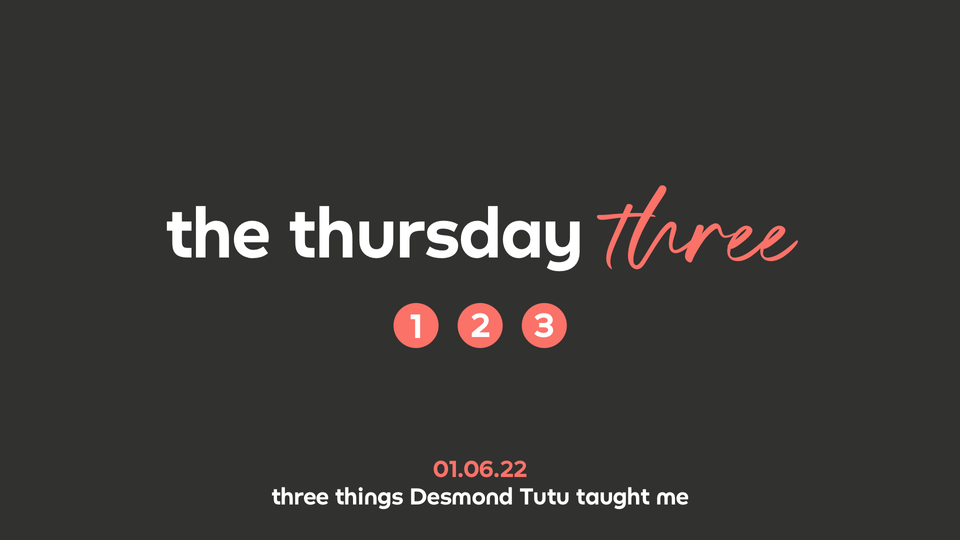 In September 2007, Archbishop Desmond Tutu came to speak at James Madison University. I was a third-year student there at the time, and I remember the palpable buzz around the event and around Tutu's presence.
But I didn't go.
It's become one of the greatest regrets of my life. At the time, I had only a slight awareness of Archbishop Tutu and was likely playing the role of "lazy college student."
I didn't know much about him until a U2 concert in Charlottesville, Virginia two years later in October 2009. That whole night was magic for me — not only in proving pivotal in my theology and my call to ministry but also in introducing me to the band that would come to provide the soundtrack and soul for my life.
There was this moment right before U2 played their song, "One," when the stadium went dark. Then a beat later, Archbishop Tutu's unmistakable voice came through the speakers as his face appeared on the giant 360-degree screen above the stage — and he preached to the thousands of us who had gathered that night... but especially to me.
It was the first time I'd heard a message that brought together faith and justice. It enlarged my imagination for what it means to follow Jesus — that it's not just about right beliefs but also about right action. And it helped me see that God can show up in the most surprising places and move in such mysterious ways.
I've spent the years following that night in Charlottesville working to become a student of Archbishop Tutu, and I was heartbroken to learn of his "transition" on December 26. As I wrote on my recent Instagram post grieving his death:
It is no exaggeration to say that his words, ideas, witness, and life have all influenced my faith and my theology more than anyone. "The Arch" taught me about the hard work of forgiveness and reconciliation, showed me what God's dream looks like, planted the idea of ubuntu deep in my heart, and reminded me again and again that God is a God of surprises. His life's work of wanting each person to know their belovedness as a child of God has become my own, and I will miss his bold voice, inclusive heart, passion for justice, and contagious joy. The whole world will miss it, too.
So for this week's Thursday Three, I'm sharing three things I learned from Desmond Tutu that have shaped not only my theology but my whole life.
---

The first is a conversation between Archbishop Tutu and Krista Tippett, host of On Being. In their conversation, they discuss the power of forgiveness and reconciliation, Tutu's affirmation and celebration of LGBTQ+ persons, and how God might feel about the Dalai Lama. It's all so good, but I especially resonated with Tutu's description of God as "a god of surprises" with a delicious sense of humor.
...God is a god of surprises. I mean, I've sometimes said God's sense of humor is quite something, you know. I mean, an illustration of the sort of craziness — they had dealt with somebody called Beyers Naude. He was an Afrikaner who at one point said, "No, apartheid can't be justified scripturally," and for this he was turfed out of his church. I mean, they expelled him because they said he was a traitor. And so he joined up with blacks and others who were opposing.

When freedom came, there was a road in Johannesburg that had been named after D.F. Malan. In 1948, Malan became the first nationalist prime minister. And so they had this D.F. Malan driveway. In 1994–95, the name was changed to Beyers Naude Highway. I mean, you would almost imagine them in heaven sort of rolling in the aisles.
I've come to know this God as one who breaks through my cynicism, defies my expectations, makes a mockery of injustice, and is making all things new.
Read the transcript or listen to the whole conversation here.

Archbishop Tutu first introduced me to the idea of ubuntu when I read No Future Without Forgiveness (Amazon, Bookshop), his reflections on the Truth and Reconciliation Commission in South Africa that sought to bring healing to a nation ravaged by apartheid. Here's how Tutu defines ubuntu.
Ubuntu is very difficult to render into a Western language. It speaks of the very essence of being human. When we want to give high praise to someone we say, 'Yu, u nobuntu'; 'Hey, so-and-so has ubuntu.' Then you are generous, you are hospitable, you are friendly and caring and compassionate. You share what you have. It is to say, 'My humanity is caught up, is inextricably bound up, in yours.' We belong in a bundle of life. We say, 'A person is a person through other persons.' It is not, 'I think therefore I am.' It says rather: 'I am human because I belong. I participate, I share.' A person with ubuntu is open and available to others, affirming of others, does not feel threatened that others are able and good, for he or she has a proper self-assurance that comes from knowing that he or she belongs in a greater whole and is diminished when others are humiliated or diminished, when others are tortured or oppressed, or treated as if they were less than who they are.
We share humanity, we need one another, and I'm not whole unless you are. This has transformed how I view myself and how I relate to others. It's increased my compassion and moved me to grace. I thank God for Archbishop Tutu's instruction here (one that pairs exceptionally well with the Apostle Paul's teaching on the Body of Christ in 1 Corinthians 12).
You can watch Desmond Tutu share about ubuntu above and, in greater depth, here.

+ "I've Read the End of the Book..."
There's this story I was told about Archbishop Tutu by a friend and mentor. It's a story that had been passed down to her by someone who, themselves, had it passed to them.
It's a story about how in the throes of apartheid, throngs of South Africans in all their despair and hopelessness — people who had endured unspeakable violence and loss — had gathered around Tutu seeking some semblance of hope. And the story goes that Archbishop Tutu stood up among the crowd, Bible in hand, and said, "My friends, do not despair! Do not lose hope! I've read the end of the book, and we win!"
In other words, this moment is not the last moment. God's love and justice will prevail. In Christ, God is making all things new. These are powerful words of hope in pain, victory in exhaustion, life in death. This is the gospel.
But up until a few weeks ago, I had started to wonder if this story was the stuff of urban legend.
While I've read countless books authored by Archbishop Tutu, watched movies and read accounts of apartheid, and even used Google to search corners of the Internet, I couldn't seem to find documentation of this story. But a few weeks ago, reading Fleming Rutledge's weekly devotional book, Means of Grace, I came across this passage, and my heart leaped:
The book of Revelation has taken a bad rap. It is by no means as weird as we have been led to believe. It is full of encouragement, hope, and comfort, especially for oppressed people. When Archbishop Desmond Tutu of South Africa was fighting the good fight against apartheid all those decades, he used to say, "Don't give up! Don't get discouraged! I've read the end of the book! We win!" The celestial vision arises out of the revelation of Jesus Christ himself, the Son of God who reigns in heaven and who has drawn back the curtain just for a moment to allow us a glimpse of God's future.
I couldn't believe it. My first thought was, "It's real! The story is real."
Of course it is — but not just the story. The good news of it all is real, too, and I'm beyond grateful for the work and witness of Archbishop Tutu that has led me to that truth.
---
If Archbishop Tutu impacted you, I'd love to hear about it. And if you enjoy this post or find value or meaning here, consider subscribing, sharing, or forwarding to someone.
God bless you, friend.