Seeking Sanctuary
What would this world look like were we to make of ourselves and our communities a home where strivings cease, where posturing is paused — and instead there is space for stillness and rest, space to simply be — to find rest in the God whose door is always open?
Sermon Delivered at The Local Church
Sunday, December 19 • Advent 4C
Scripture: Luke 1:39–55
---
We went out for a walk the other night in our neighborhood to see all the Christmas lights, and everything looked so pretty. Pittsboro Elementary does an annual light tour where students' houses are featured throughout the community. You get the addresses, and you can drive by and see them. It turns out that there were five houses in our neighborhood that were part of the tour, so we had to find them. And we did. It was super cool. White lights and colored lights. Icicles and laser projections. I love how the creativity just seems to level up every year. And there were inflatables. So many inflatables. They seem to be having a moment right now.
We're going for the minimalist approach with just one. We have a cat inflatable. I'd need some convincing to add another. It could happen.
But I was out yesterday during the day on a run (which is, in and of itself, a Christmas miracle), and it was the saddest thing. Because all of the inflatables that, the night before, had been so bright and so big and so full of air and the Christmas spirit, well, they were all deflated. I'm not sure there's much sadder than deflated Christmas blow-ups.
As I ran by them yesterday, I couldn't help but think, "Yeah, Santa. Me, too. I feel you." Because have you seen those "How It Started, How It's Going" memes? That's what it feels like with these inflatables right now.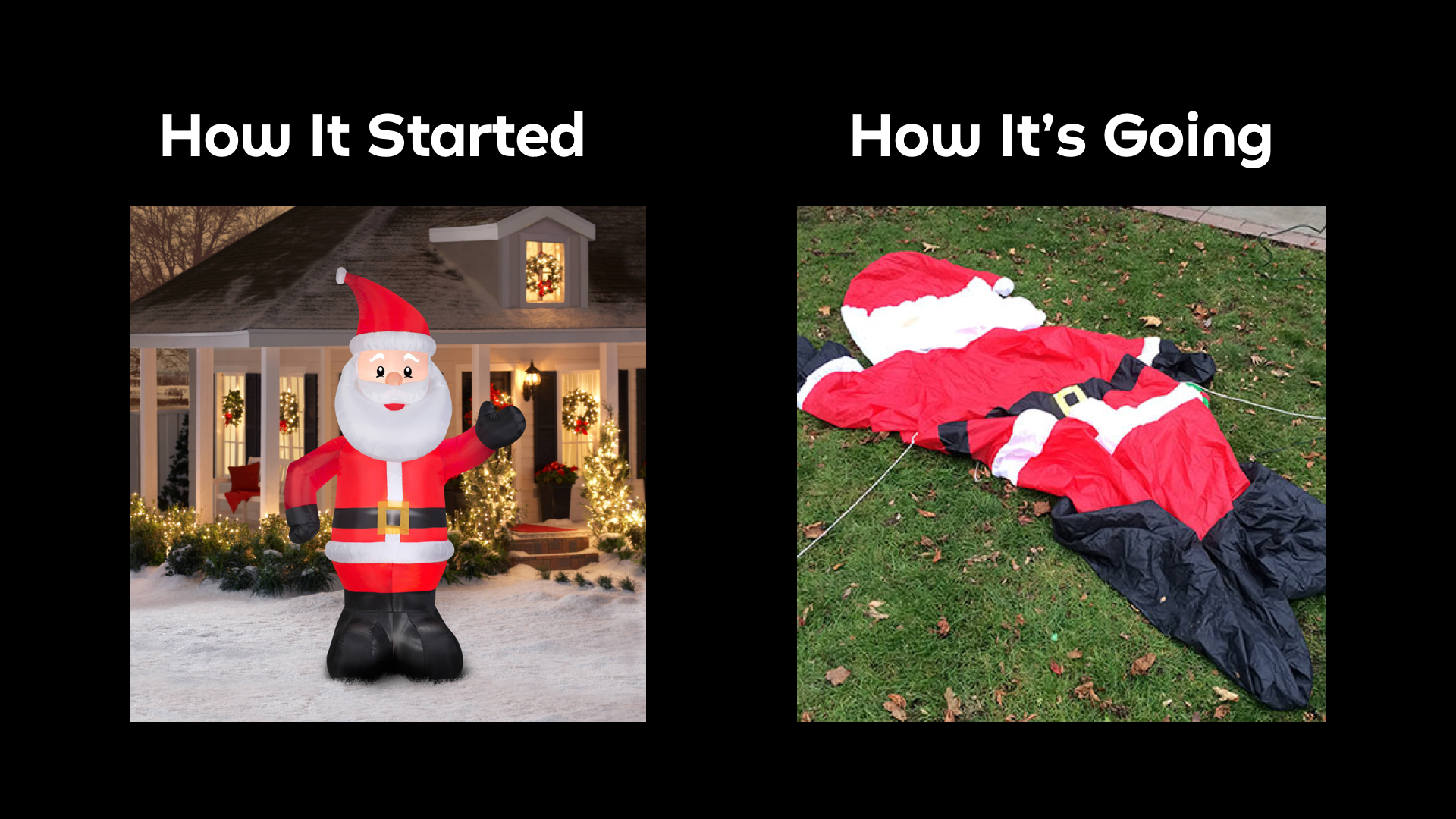 There's me — February 2020. And, you know, I felt like I was getting close to that this summer. But today, that's totally me on the right.
I mean the holidays are stressful enough every year. But just when you thought it might be safe to throw a big Christmas celebration and gather with family and friends and sing Joy to the World at the top of your lungs, here comes Omicron giving off big March 2020 vibes, showing up like the Grinch into Whoville.
It's just so… deflating.
And this is why we need this time. This is why our Sunday liturgy, this common time for a common purpose, is so vital.
Because when it feels like the ground is constantly shifting beneath your feet, when it feels like you can't get your footing, when there's so much uncertainty, and hope seems just out of reach, when our world's turned upside down, and we're struggling to make sense of it all, when you're not sure you can hold one more thing… this time on Sunday mornings gives us some stability. Gives us something to count on. Some hope you can hold on to — an encounter with the one who is our rock, our foundation, our shelter.
Because this time, this space, these people — by God's grace — provide sanctuary. For the wounded. For the wondering and wandering. For the disenchanted. For the spiritual refugees. For the exiles and the fearful and hurting and heartbroken. And everyone in between.
It's sanctuary. And that's what we're digging into this morning with the help of Mary and Elizabeth.
But first, a reminder of where we've been and why we're here.
As you've heard through song and scripture and liturgy, today is the fourth and final Sunday of Advent.
The word Advent, remember, literally means "coming" or "arrival," and it's in this season that we spend these four weeks not only waiting for the coming of the Christ child that we commemorate on Christmas but also for the arrival of God's promised day when the world is, at last, as it should be. We're longing for the day when heaven and earth kiss and the world, fully and finally, feels like home for all.
Each week, we get closer and closer — lighting candles and meditating on themes of hope, peace, joy, and love. And though we're closer, we're not there yet. This tension, this longing, this feeling of being in-between the already and not yet is what we're exploring this Advent through our series, "Close to Home."
It names the reality that while in so many ways, we're close to home and getting ever closer, we're not there yet. And that's the tension of Advent. That we find ourselves in the middle. In the in-between. We're in between the coming of Jesus and the arrival of God's promised day. Between the already and the not yet. And the season of Advent brings that reality, that longing, into sharp focus — that while we are close to home, we're not there yet.
So the power and purpose of Advent is that it beckons us to pause and to take time to name our deep longing and deep need for God and to recognize that even in our striving and seeking, God comes close to us, comes near, is made local, and makes a home of this place.
Each week, we've been using images of home to help shape our thinking around Advent. The first week, we talked about feeling homesick. The second week, we explored how words can lay a foundation for us. Last week, Alicia, our Duke Divinity intern who's back home in Oregon for a few weeks, preached a beautiful sermon on creating a home for all. And this week, we're talking about seeking sanctuary.
---
This is the story of Mary and Elizabeth as told by Luke from the beginning of his gospel — Luke's biography of Jesus. Just before our passage this morning, we find Mary visited by the angel Gabriel who says to Mary, "Greetings, Mary. The Lord is with you." And Mary's super confused, wondering what's happening. So the angel says, "Do not be afraid, for you have found favor with God. And you will conceive and bear a son, and you will name him Jesus." And Mary's like, "How can this be since I am a virgin?" And the angel responds, "The Holy Spirit will come upon you, and the power of the Most High will overshadow you." And Mary simply responds — a response that is not nearly as simple as it sounds — "Let it be with me according to your word."
That's where today's story picks up. Mary has just found out that her relative, Elizabeth, is also pregnant — in the sixth month. And Mary heads to see her. When Mary arrives, the child in Elizabeth's womb leaps, and Elizabeth blesses Mary.
Then Mary sings her song that has come to be called the Magnificat — named for the first word Mary sings in the Latin translation. It's a song of praise to be sure — a song that echoes Hannah's song when she discovers she's pregnant with Samuel. But it's also one of protest. It's a song of love remaking the world. Of God turning the world right side up.
And when we consider these events and this song, there are a few things I think are important to notice here as we think about sanctuary.
First, note that Mary went "with haste" to see Elizabeth. She didn't take her time. She left immediately for this extended stay. Luke doesn't tell us why, but we can make some educated guesses. It's possible that, like us, Mary's world was turned on end — full of uncertainty and unsure about her next steps. So perhaps she needed an older, trusted confidante like Elizabeth to listen, to help her process, to think through next steps, to sit with all of the fear and questions that this event inevitably raises. To ponder about how the future she thought was hers had now come undone. And to be a safe space to process all of that.
Or perhaps she leaves quickly out of fear. Because here's a poor, unwed teenager from the nowhere of Nazareth in first-century Palestine — pregnant with a child who doesn't belong to her fiancé. This has all the makings of a scandal, and not only is Mary already marginalized, but she's incredibly vulnerable as well. And so the hill country of Judea — a good distance away from the major political centers of life, provides her with refuge in these early months of the pregnancy.
So whether it's space to process and find her footing in a world turned on end or space for safety and peace for a Mary who's marginalized and vulnerable, Elizabeth provides sanctuary — both in herself as a person and in her home which is a safe haven for Mary to digest her new calling and find physical safety and emotional protection.
Sometimes when we think of sanctuary, we think of a physical place. And to be sure, there are physical places that can serve as sanctuaries for us. I think of the churches that house undocumented immigrants and other vulnerable persons.
But a person can also be a sanctuary as we see here in Elizabeth. Rather than looking upon Mary with skepticism or mistrust, Elizabeth welcomes Mary without question, without judgment, without a hint of shame and no ulterior motives so that Mary's womb can serve as a sanctuary in its own right — a safe place — for the child of God to grow within her.
Here in this encounter between Elizabeth and Mary, we discover that sanctuary is anywhere God's love dwells freely and abundantly.
But sanctuary is hard to come by here, isn't it?
I don't know about you, but so often for me it feels like all kinds of encounters with all kinds of people aren't totally safe.
Maybe it's hard to be completely honest with a friend out of fear for how they'll respond and what they'll think of you.
Maybe you feel like you have to project a certain image with your boss or coworkers because one wrong move could cost you that bonus or the promotion or the sale.
Goodness, I was with a group of clergy friends earlier this week and we were lamenting the competition we feel with one another and how our system is set up for it in many ways — and how hinders our ability to be our full selves with one another and with those above us in status.
Your school may not feel like a safe place — not only among your friends and classmates who become the arbiters of what's cool or what's not — but also physically as you're forced to have regular safety drills, locking doors, and hiding under desks.
Or maybe it's hard to find sanctuary because, like Mary, our worlds seem to be constantly turned on end. The ground shifting beneath us. And there's so much. There's just so much.
---
It all makes me wonder what kind of world we'd inhabit were there more places and people of sanctuary — places and people in whom God's love dwells freely and abundantly.
What would it look like to be a people who offered a safe space of belonging?
What would it look like to offer a non-judgmental presence to those we encounter each day?
How might this world look different if each and every child of God could freely be who they were created to be — free from shame, free from manipulation and coercion, free from fear?
What would this world look like were we to make of ourselves and our communities a home where strivings cease, where posturing is paused — and instead there is space for stillness and rest, space to simply be — to find rest in the God whose door is always open?
How might the world look different if we, by God's grace, could offer ourselves as sanctuary?
We catch a glimpse of that world in what happens next.
---
It's because of the sanctuary she receives from Elizabeth, because of the safety and refuge Mary finds, that she can sing. She has the space to pray, to lean into her calling, to ponder all of these things in her heart.
Note that her song, the Magnificat, starts with Mary: "My soul magnifies the Lord, and my spirit rejoices in God my savior, for he has looked with favor on the lowliness of his servant. Surely, from now on all generations will call me blessed; for the Mighty one has done great things for me, and holy is his name."
It starts with Mary. This is Mary's response. Once she has the time and space to be still, a song of praise emerges from the mouth of this poor, unwed Jewish teenager. But then the song's breadth expands. She describes first what it means for her. But then it gets bigger.
She sings about God's mercy from generation to generation. About how God will bring down the powerful from their thrones and lift up the lowly. About how God will fill the hungry with good things and send the rich away empty. About the mercy God will show according to the promise made to Mary's ancestors and Abraham's descendants forever.
In other words, it moves from Mary outward. The blessing flows from one to many. And that's what the world can look like when we receive sanctuary. We then have the capacity to provide it for others. We can give that which we have found and experienced.
I want to leave you with two quotations that I stumbled upon this week that bring this point, well, home.
The first is from feminist author and scholar bell hooks who died this week. Her work was all over my Instagram this week following her death, and this one quotation, in particular, connects so well with this idea of finding sanctuary and safety in another — places where God's love dwells freely and abundantly.
bell hooks wrote:
Rarely, if ever, are any of us healed in isolation. Healing is an act of communion.
And finally, Joanna Szeto who is part of this community texted me this screenshot from the late Rachel Held Evans' new book called Wholehearted Faith, and with it, she typed, "This is The Local Church!"
Anyway, most of the openhearted wanderers I've encountered are looking not for a bulletproof belief system but for a community of friends, not for a spiritual encyclopedia that contains every answer but for a gathering of loved ones in which they can ask the hard questions.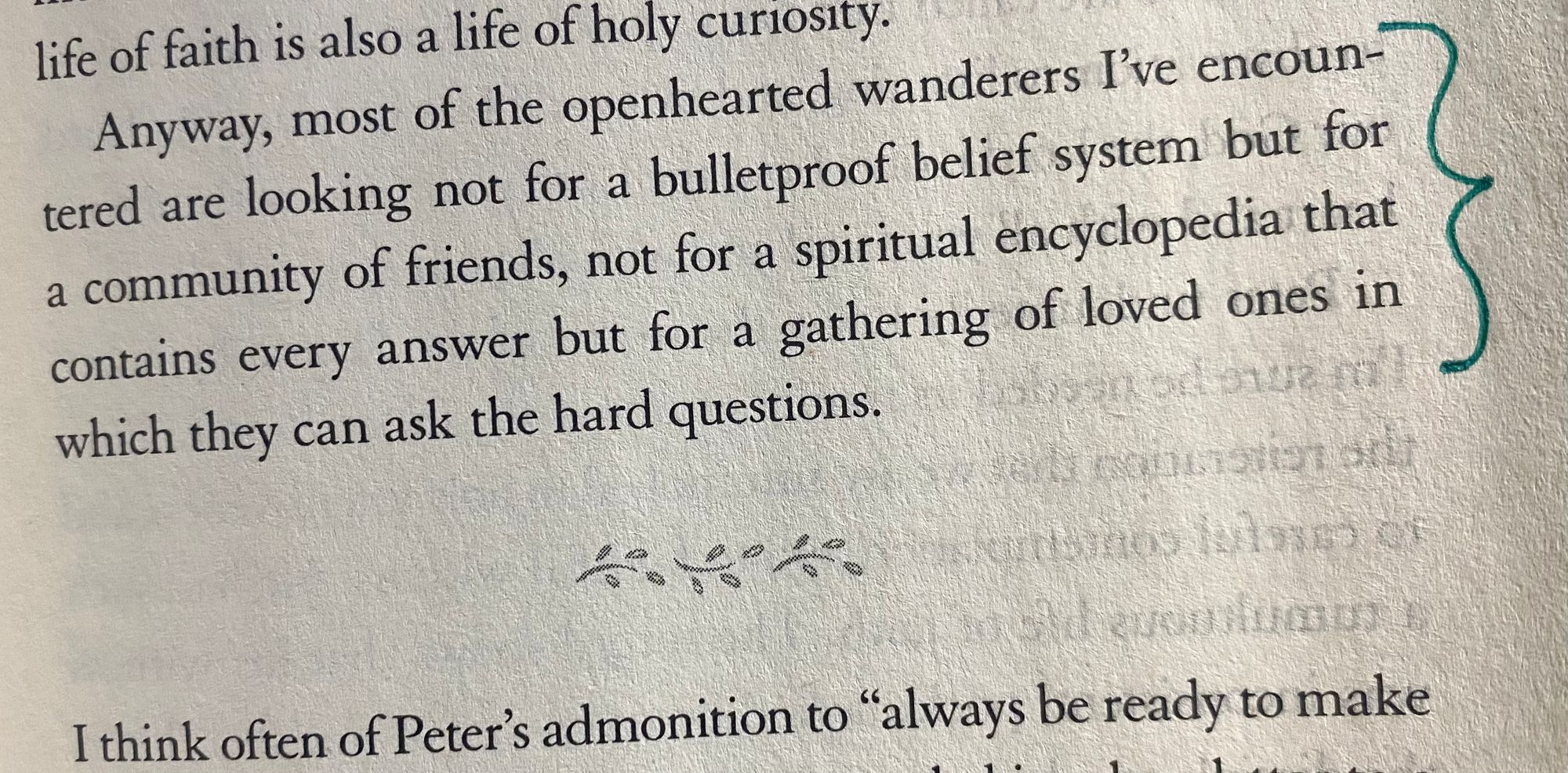 That's sanctuary.
Know that we strive to be that place here. Whether you are feeling hopeful or weary, worried and disoriented or deflated and not sure what's next, know that this place and these people are here as sanctuary for you. But not for its own sake — so that you might leave and, in the spirit of Mary and Elizabeth, offer yourselves as a sanctuary for this world.
Lord knows we need it.
Amen.